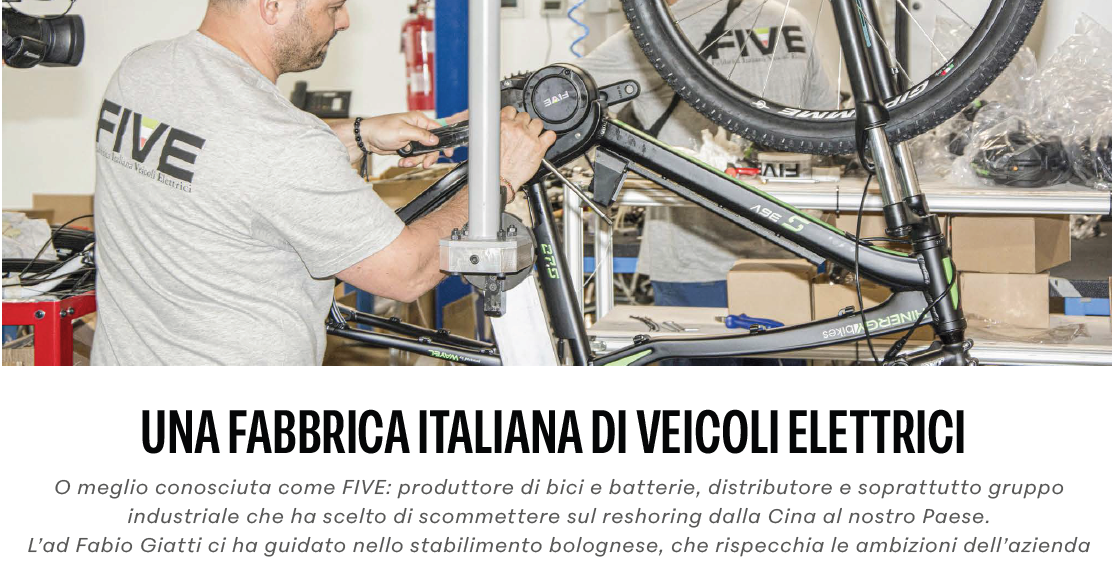 11 Sep

History, activities and next steps of FIVE in August release of Bikefortrade

In the August release of Bikefortrade, large space is dedicated to FIVE: the trade magazine had the chance to enter the Italian factory and to take a closer look to the production site, the laboratories, the test area and the showroom. 

The article resembles an updated company profile, which features the history, all the activities and the brands distributed by FIVE:
from the historic eBike brands WAYEL and ITALWIN or the mini-car Eli, to the most recent distribution or subsidiary agreements like Armony or Garelli, Torrot and Tromox.

Welcomed by Fabio Giatti, CEO of FIVE, the Bikefortrade editorial staff was able to get a close look at the work of an Italian group that is active across the board on electric mobility as a manufacturer and distributor, and that today can also count on an international distribution network that goes beyond European borders to Canada, the United States and Australia.

The last stop of the visit was the area reserved for battery assembly, which is one of our prides within the plant since battery production is not such an obvious process in our country. Made in 2018, automation is provided in particular by a cells sorting machine, which tests and then groups together all the cells to have uniformed battery packs, and by the welding of the batteries. At the end of the day, the first full charge is performed on the assembled batteries to check their actual capacity.

A new bms (battery management system) is being developed in Bologna, which has a Bluetooth module inside and an active balancing
of the cells in case of imbalances between them-an intelligent system that may be able to talk to the end user to tell him the battery status and other details related to eBike use.