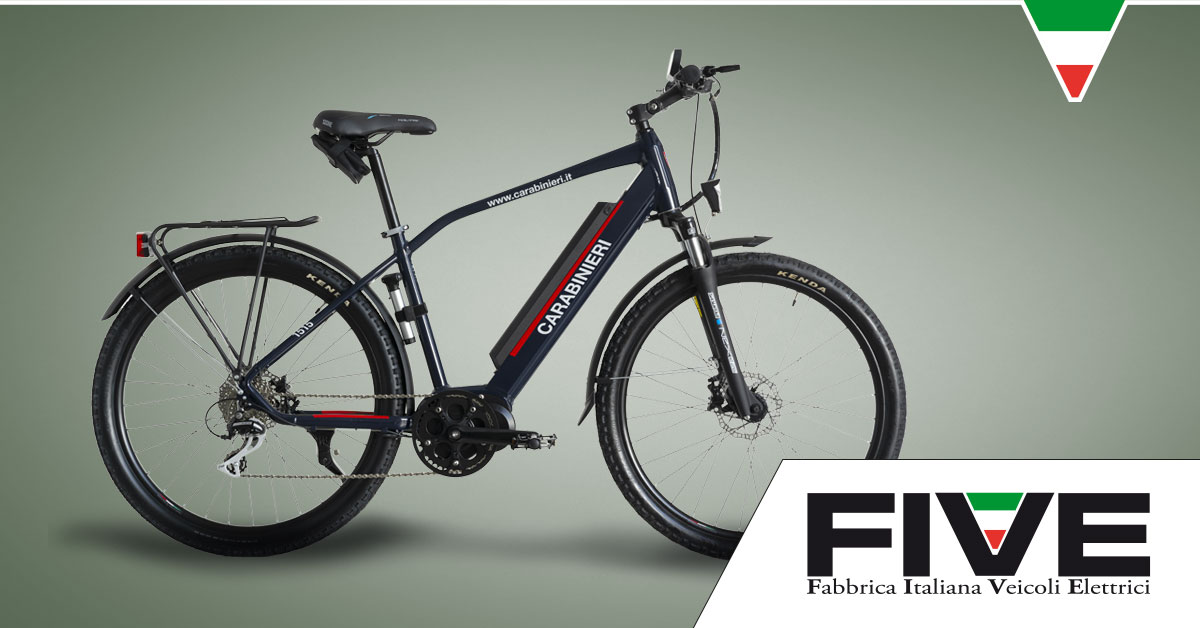 22 Apr

An e-bike made by FIVE for the Carabinieri Corps
A 630-watt lithium-ion heart, all Made in Italy, is at the core of the electric motor of the e-bike supplied to the Carabinieri Trail Ultra, the electric bike at the top of the ITALWIN trekking series. It will join the fleet of vehicles at disposal of the Carabinieri.
Carabinieri vehicles always have something fascinating. We see them on our roads and wonder what unique equipment characterizes them.
Each vehicle is designed to perform a specific function, heavy vehicles for public order keeping, fast cars for quick operations. From today, a really special vehicle joins the old ones, the Italwin Trail Ultra e-bikes, a fast, safe, and well-equipped electric bike.
Not everyone knows that the story of the bicycle in the Carabinieri Corps has distant roots, dating back to the end of the 19th century. At the time they were called "cycling machines", bikes were used for services in towns and cities. During the Second World War, some departments of Carabinieri cyclists served as runners with the front line, they carried the musket on the crossbar and the field blanket secured to the handlebar.
Nowadays, "cycling machines" have evolved and are equipped with an electric motor, and can be used for more peaceful purposes. The Trail Ultra will, in fact, be used mainly for the needs of the Carabinieri operating in national parks for the protection of the environment and the forest heritage.
The use of the e-bike allows the Carabinieri to reach all the paths where the ordinary road network does not arrive and to carry out a more accurate and efficient environmental control, more ecological and silent than a motor vehicle, respecting the wildlife and air quality.
Trail Ultra is produced entirely in the FIVE factory, even the batteries are developed in the laboratories in Bologna. The customization is made with the dark blue color with traditional red stripes of the Carabinieri, the stickers with the brand, and the contact details are white. The first stock of bicycles was delivered at the end of 2020.